10 must have customizations on your Magento Store
Posted by Nihar on February 8, 2017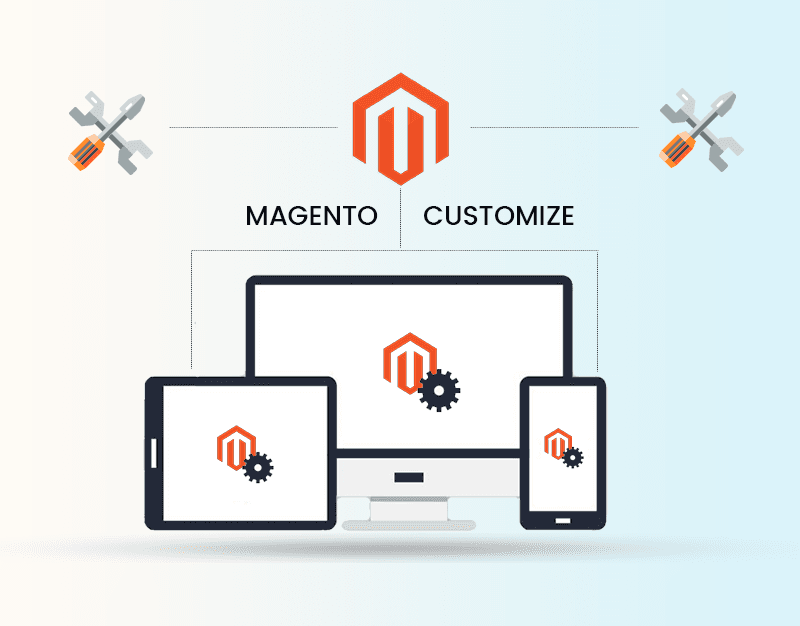 Magento by default has all essential features needed by an eCommerce
Store but some customizations are essential to make it user friendly
and increase conversions
So you have decided to use Magento as your eCommerce platform (There are many factors that need to be considered before deciding which eCommerce platform should be selected for a project, but that will be the subject of another blog post). Magento is a rich eCommerce platform that offers all the necessary features off the shelf and it has a big community of active developers who keep adding every conceivable feature as magento plugins. Though Magento by default has almost all the features that are needed by an eCommerce Store but on this blog post I am going to list some customizations that should be done to make your store user friendly and allow for easy conversion from guest to a user and then to a customer:
Customization of Magento:
1. Tailored Storefront
One obvious customization that all the stores need to make is have a custom, attractive, informative and branded storefront. This is a make or break step and has the potential to turn their visitors into buyers. Lots of factors come in to play when designing a storefront and this is a job that is best done by a professional UI / UX developer. Besides being attractive the user interface needs to be intuitive, quick and easy to use. 
2. Layered Navigation / Category pages
When it comes to filtering and viewing products, Magento comes packed with rich and powerful features. So you can filter products by every conceivable attribute that you have added in the products. However, there are some aspects that are not very user friendly by default, namely:
It reloads the page every time you select a filter, AJAX based filtering would be quicker and less distractive
The urls generated with filter are not SEO friendly by default
Filters for price, by default, is not very user friendly
There is no easy way to pick and choose which filters to display on pages
3. Smart Search
As we know search is a really important feature for any eCommerce store. Magento does come with a search feature but the default search leaves a lot of scope for improvement. Though there are many plugins available on Magento store to enhance the search functionality but you need to be really judicious on which one to use. Smart search option should help your customers to search relevant products faster. 
4. Quick Product View
By default, on Magento, if the user wants to view details of the project they need to click on the product tile and they are navigated to product details page. However, if they do not like the product or want to see other options that need to go back to the list page. To avoid this back and froth, some users' open products in new tab, however, this is just a work around and not the real solution. So, one must have feature for the store is "Quick View" pop-up for product that can display product details quickly on the list view itself. This makes the whole process user friendly and smooth. 
5. Add to compare
There is nothing better than comparing two or more similar looking products side by side. Magento has this covered as well. You can add as many products to comparison as you would like and view them side by side. However, what's again left out for customizations is smooth finishing and user-friendly component. Any time you add a product for comparison the page reloads and there is no easy way to see which all products have been added for comparison. 
6. Shopping Cart
Products can easily be added to cart (though not via AJAX which would definitely help) however viewing what is in the cart can again navigate you away from the current page that you are on. It can be debated that if user wants to view cart then that's what s/he wants to do so navigate them to the page, however, in this competitive world every bit and ounce of UI /UX improvement counts. So, a pop-up shopping cart is a thing you might want to consider.
7. One page checkout 
Magento does come packed with a good checkout flow, however, as per eCommerce pundits (and data also suggests the same) most of the carts are abandoned while in the checkout flow. Increased number of clicks needed to checkout is directly proportional to number of increased abandoned carts. So if you are a serious eCommerce Store, you need to keenly observe and minimize the number of clicks to checkout and then you can sit back, relax and view conversions on the site.
8. Abandoned Carts
However many customizations you do or follow all rules of eCommerce, you will have to face some dropouts on the checkout flow. So the best strategy is to be prepared for that and try to convert every cart that can be converted. So you need to track the abandoned cart and need to have features to remind the user that their cart is waiting for them.
9. SEO Optimizations
Magento has some useful defaults set with respect to SEO optimizations however the onus is completely on the developer and the site owner to provide right set of URLs and data so that Magento based site shows up high on search indexes. There are many tips and tricks on what to do and what not to do. Though these tricks also vary based on the what is deemed right by the 'SEO guy' 
10. Other features
There are many other smaller customizations/configurations that can and should be done. Some of them being:
Display of products in various different ways depending on your niche for example by Brands / by daily deals / by discounts / by different verticals in your industry etc.
Display Banners can be made CMS driven to make it easy to change
Menu customizations to highlight items as per your niche
Create short-cut menu for items that you feel your customers may need more often
Add a blog
So bottom line is try to make your eCommerce Store as user and search engine friendly as you possibly can since this could make or break the complete investment that you are making. The above list should provide you a handy tool to review your own installation. If you need help doing that we can certainly help.
A little about Us
CodeFire Technologies ( www.codefire.org ) is one of the leading Magento development company, focusing in building scalable, personalized/customized and robust online store for its clients. Our experienced Magento developers exploit their experience and expertise in custom Magento development to build world-class eCommerce stores!